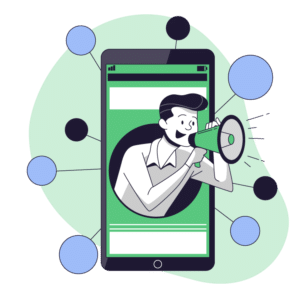 No matter the number of fundraisers within the digital department of a not-for-profit organisation, there will always be a struggle against their multichannel nature and the different objectives of the tasks they are assigned.
For this (and other reasons) it's very complicated to place the digital department into a charity's organisation chart.
Very often, the adopted solution is to position half of the digital fundraising team under the communication department and the other half under the marketing and fundraising department. This is certainly an interesting solution, but it usually leads to grey areas, having certain activities that aren't under either department, that don't have a leader or worse, that don't have any supervision of objectives and KPIs.
Digital is a dimension of the product/service, a channel and not a market, and there should probably be a "digital division" for each area of the organisation or a Chief Digital Officer with a team supporting all the other areas of work.
In any case, there isn't a solution that is better than another. There is the best solution for that particular charity in that particular moment. And, above all, with that particular number of human resources that are actually available.
There is a strong digital transformation taking place and change is at the heart of this approach. It's often normal, and even essential, for approaches to change. Fundraisers must be ready to adapt to these changes taking place within the organisation.
Why do we say all this?
In order to understand how to implement a digital fundraising plan and fundraising strategy that actually work, we need to be aware of how many people we are and how much time we have. Above all, where and how early we can get the information from the other offices in our organisation.
Those who work in medium-sized and large charities know very well that it's not always easy to obtain data, plans and other materials from the field or from the relevant offices. And that it's often necessary to request information well in advance. And if you still don't know, we want to make it clear: digital and "in advance" almost never go together.
And if you still don't know, we want to make it clear: digital and "in advance" almost never go together.
For those who work in smaller organisations, the biggest mistake is to think that you don't have this problem because internal communications seems to be more streamlined: this is a big mistake! It's essential to create a continuous and constant flow of information, in order to avoid dealing with the "blank page" problem.

So let's get down to business and start simplifying the concept by dividing the activities into two large blocks.


Digital fundraising vs. digital communication for fundraising
Block 1 – Digital Fundraising
Under this umbrella we find all the work that goes into acquiring donors and raising donations online through your donation page. What we could summarise as: "getting people from the social post to the online donation form", but most importantly, allowing for transactions to be completed easily.
This is quite an enormous task that should take up to 90% of your time (and often does not), as it is the task reviewed in the quarterly budget analysis and it's the activity on which your goals are set and for which you are assessed as a fundraiser.
Raise money, acquire donors and leads, convert, bring in upgrades, turn into recurring donors etc… sounds familiar?
Block 2 – Digital communication for fundraising
Here on the other hand, we find all the other activities that we are required to do and that, unfortunately, very often take up valuable working hours. We are talking about press releases, news on the website, advertising events, lobbying and advocacy, social media marketing not for fundraising, petitions, content updates on the website, surveys of various kinds, support for direct mailing campaigns, informative newsletters and so on.
In short, tons of activities that strengthen the brand and update our audience, but inevitably take us away from our economic goal of online fundraising.
An example of a frequent "pseudo-digital" illusion is to be convinced that after having widely advertised an organisation's event online, participants will suddenly become digital donors overnight.
This doesn't happen, it's an illusion. At that moment people are probably thinking about something else and would rather make a donation in cash than online.
The result? You've invested time and resources to make the events department's budget bigger…That's good, but it takes you away from your goal as a digital fundraiser: to raise funds through DIGITAL CHANNELS.
Now let's look at 5 steps you should follow to plan your digital fundraising year.


Step 1: Current year analysis and budget request
Buddha said: "Do not dwell on the past; do not dream of the future, concentrate your mind on the present moment". It's mid-October, autumn is coming and you are ready to begin planning. You should go over how things have gone so far, study the fundraising peaks of the current year, as well as the areas in which you have performed less well.
Calculate how much was raised to date and understand your fundraising goal: what to keep and what to change, and very importantly, where to invest. It's not certain that a campaign that has worked this year will work again next year, but if you have found a winning key to contact donors, try to keep it alive in its second edition.
Consider auditing your website and campaigns' SEO performance by a professional as well. They will be able to find technical details, semantic or possible backlink errors that could be hindering your site's ranking, as well as advise on what keywords to concentrate on, and how to improve. If you want some tips on how to improve website traffic, check out this article!
If you then analyse the overall ROI (Return On Investment = Net income / Investment*100) of your digital year, you can add up how much budget you'll need for advertising, agency creativity, etc. Always try to ask for at least 120% of what you asked the previous year, so that you can get 110% and have some more money to spend on testing or innovating.
Review the digital technology and tools you have used. Study if they were really useful and if so, keep them in mind for the following year. It's essential to choose the new ones you want to test in order to raise more funds and optimise your fundraising.


Step 2: Brainstorming
Having all the analyses of Step 1 on the table, it is time to come up with new ideas. Gather all your creativity and put everything at stake without any limits. Invite staff members from other offices, propose claims, special campaigns, confused ideas and anything else that comes to mind, trying to assume costs and commitment in terms of work and time.
At this stage, try not to think about the calendar yet and the time division of the coming year.
You should collect all the ideas in a physical place: a blackboard, post-its, paper, anything is fine, as long as it is something tangible, that you can read and re-read without opening your laptop. Try to keep everything in plain sight on a wall in the office or, if you are smart working, you could use some digital tools like Mural or Miro (a kind of digital wall with post-it notes).


Step 3: Planning out your calendar year
This activity is the key part of your work.
In order to create a good and efficient calendar, you'll need at least one full day of work.
After about a week of brainstorming you will have settled the concepts and the proposed fundraising campaigns, you will probably have considered them brilliant or crazy and you will certainly have already discarded many of them. Here is where the common thread that will allow you to fit everything into a perfect harmonic process slowly takes shape.
It's the time to put these activities in a calendar on a spreadsheet, making sure to write down also the time necessary to realise them before the "go live": intermediate checks, finding the materials, the channels where that particular media should be published on and in what form (video, audio, photo, blog, post, DEM etc…).
This precious sheet of paper will be essential in order to avoid the worst thing that could happen to you: sitting at your desk one morning and not knowing what to write in the next Facebook post scheduled for today.


Step 4: Allocation of the AD and non-AD budget


You now have the calendar ready and you know the budget. It's still November and you have plenty of time to put together a great nonprofit fundraising plan.
Which campaigns do you want to invest the most money in? Where to focus more on organic investments?
Carefully allocate the budget of the year to the different campaigns, trying to be smart about how much money to spend on advertising as well. You should definitely keep a small constant investment in social media throughout the year, just so the algorithm doesn't get weird, and "bet" larger sums in interesting periods for your organisation.
Let's be very careful with big investment periods, such as Christmas, where big players go 'all-in' and you risk getting crushed.
Even though you should always include an end-of-the-year campaign, it may be better to invest more in hot periods for your charity. For example, a special date or international days that are close to your mission. Always allocate part of the budget to a creative agency for a fundraising campaign because there is nothing better than a breath of fresh air from outside for the coming year, and of course, another part of the budget to the digital fundraising tool you will need to collect donations.


Step 5: Implementation and monitoring
A self-respecting fundraising plan starts in January, which means that these five steps should be completed by the first week of December at the latest, so that you arrive prepared and don't take too much time away from the crucial Christmas campaign you are carrying out.
Plan bi-weekly catch ups to monitor the plan in order to make adjustments and possibly add or remove planned activities. Set as an objective a maximum of two takedowns throughout the year, as the risk of starting to postpone or cancel is very high. Self-motivation is the only way not to miss anything you have planned.


I think there is enough to do, right? Let us know what you think and how your planning is going! And if you need help defining your KPIs, don't hesitate to consult iRaiser's article on the subject : The key indicators to measure your fundraising performance.