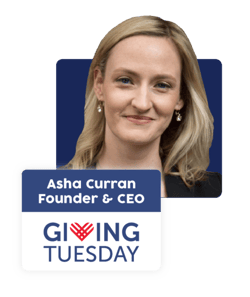 You don't want to miss our interview with GivingTuesday's founder & CEO Asha Curran. Her inspiration & practical advice willto help you make the most out of this online giving global movement. Don't miss this great opportunity to raise money for your cause. GivingTuesday 2022 is a must on your fundraising event calendar!
GivingTuesday, was created in 2012 as a simple idea: a day that encourages people to do good.
It is an independent nonprofit and a global movement that inspires hundreds of millions of people to give, collaborate, and celebrate generosity. Now over 300 Global leaders from over 75 countries drive the movement raising millions and seeing amazing acts of kindness.
In this article, we talk to CEO and founder, Asha Curran, who shares her inspiration behind GivingTuesday, her best practical advice and tuesday campaign ideas to help you get the most out of this movement, and what's in store for the future.
Can you remember the moment you decided to start GivingTuesday? What motivated you to do so?
GivingTuesday was the idea of Henry Timms, when we were working together at the 92nd St Y ten years ago. 92Y is a community centre, and we were doing a lot of experiments using digital technologies and social media to expand the communities we were reaching, playing with the idea of what the word "community" means in a hyperconnected world. GivingTuesday was one of those ideas, though we couldn't have foreseen what it would grow into.
GivingTuesday started out with a strong US focus, since it was meant to be a day of giving after Thanksgiving and Black Friday (an American tradition), now it has expanded to more than 75 countries. Do countries around the world have different approaches to the movement?
GivingTuesday is a truly global movement, and every country that joins–the most recent are Greece, Nepal, and South Sudan–takes the idea and makes it their own. Each country has complete autonomy to be as unique and creative as they want, to tailor the movement to their own culture and people and goals, and yet every country is unified in the overarching vision of a more generous world. The leaders share learnings and ideas every day of the year. It's an amazing balance between independence and interconnectedness. And a testament to the fact that generosity is a truly universal human value.
Could you share with us giving tuesday fundraising ideas and an example of a campaign or campaigns that have stood out to you during GivingTuesday?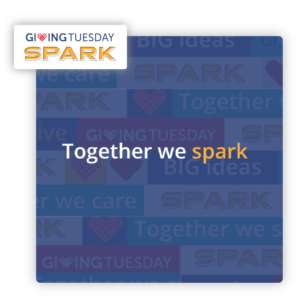 Campaigns that are collaborative, creative, or unexpected are always my favorites. Today we learned about an animal shelter in Canada who for GivingTuesday will be collecting slippers and socks for a local human shelter–intentionally deciding not to fundraise for themselves. And of course I always love to hear about orgs that have blasted right through their own fundraising goals. I'm also very excited about GivingTuesdaySpark – that's our global network of young people who activate year-round as a community with generosity projects.
What's your best advice for not-for-profits that have not participated in Giving Tuesday before, to get started with the movement?
Visit our website and take advantage of all the tools, resources and case studies, giving yourself plenty of time. Use the opportunity to be creative and try something new–GivingTuesday is a platform for innovation. Give people more than one way to engage with your mission. Even if your goal is fundraising, offer different points of entry. Thank your constituents. Ask them to spread the word and share their stories. Set an audacious goal. Document everything and share learnings afterward.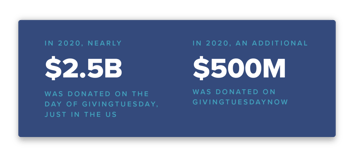 Do you think that organisations should focus their participation in this movement solely to raise online donationsfunds or are there other opportunities they could benefit from?
GivingTuesday is not a fundraising day. It's a generosity movement. People take part in it in countless ways, and asking for money or giving money are just two of those ways. People cook for their local community centers. They gather in groups to write love letters to their city on its sidewalks or they rake their neighbors' yards. They repaint and refurbish schools and blocks and nursing homes. GivingTuesday is about recognizing our shared humanity and how important it is that we care for one another; there are endless ways to do that. It's about community, and the magic of taking action collectively.
What are some of the key learnings ngo's should take from GivingTuesday? Do you think it has changed the way people give?
I think it's part of a larger wave of democratization of giving that is a wonderful thing. Anyone can be a philanthropist, and more and more people are aking that power into their own hands. People give when something moves or engages them, and they'll give to lots of different things and in lots of different ways. Our key message to organizations this year is: don't retreat. Tell your story and make your case. People want to give: give them that opportunity. GivingTuesday is disproportionately popular among young people, so that's something to keep in mind as well.
Have you been able to measure the impact of GivingTuesday in terms of the amount raised? If yes, how much is it and how do you measure it?
Last year, in 2020, nearly $2.5B was donated on the day of GivingTuesday, just in the US. We measure that by building relationships with the many giving platforms and payment processors who then share that data with us, and we've been able to learn a huge amount about giving trends beyond the dollars. In 2020, an additional $500M was donated on GivingTuesdayNow, which was a special day in May that we launched with our global community in reaction to the pandemic.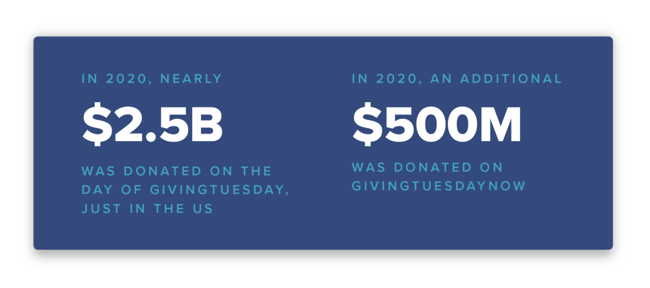 What are your plans for the future for GivingTuesday?
Our focus in the near future will be on three things: the first is leadership. The leaders in our global network, whether leading an entire country, a small town, a coalition of organizations, or a locally-based generosity or justice-focused project, all share extraordinary leadership characteristics. They are team-focused, innovative, naturally collaborative. We are committed to providing opportunities to further their journeys as 20th-century social sector leaders.
Second, we are focused on our global expansion; not simply adding more countries but deepening and broadening the impact in existing countries. We will also have a special focus on our partners in the global South. And third, we will continue focusing on building the first global social-sector Data Commons, so we can all work together to inspire more generosity.
Giving Tuesday is the perfect launch pad for your year-end fundraising campaign, and this year it takes place on November 30th! Don't miss this opportunity to boost your fundraising and raise awareness for your cause.

Contact one of our experts today to help you get started!
Want to know more? Read iRaiser's article: 6 tips for raising more on Giving Tuesday.