How can you learn from the effects of the Corona-crisis so your nonprofit organization gets out on the other side, stronger?

Here are some tips and an invitation to join our growing, free community of strategic fundraisers, planning to increase their ability to execute in these new conditions.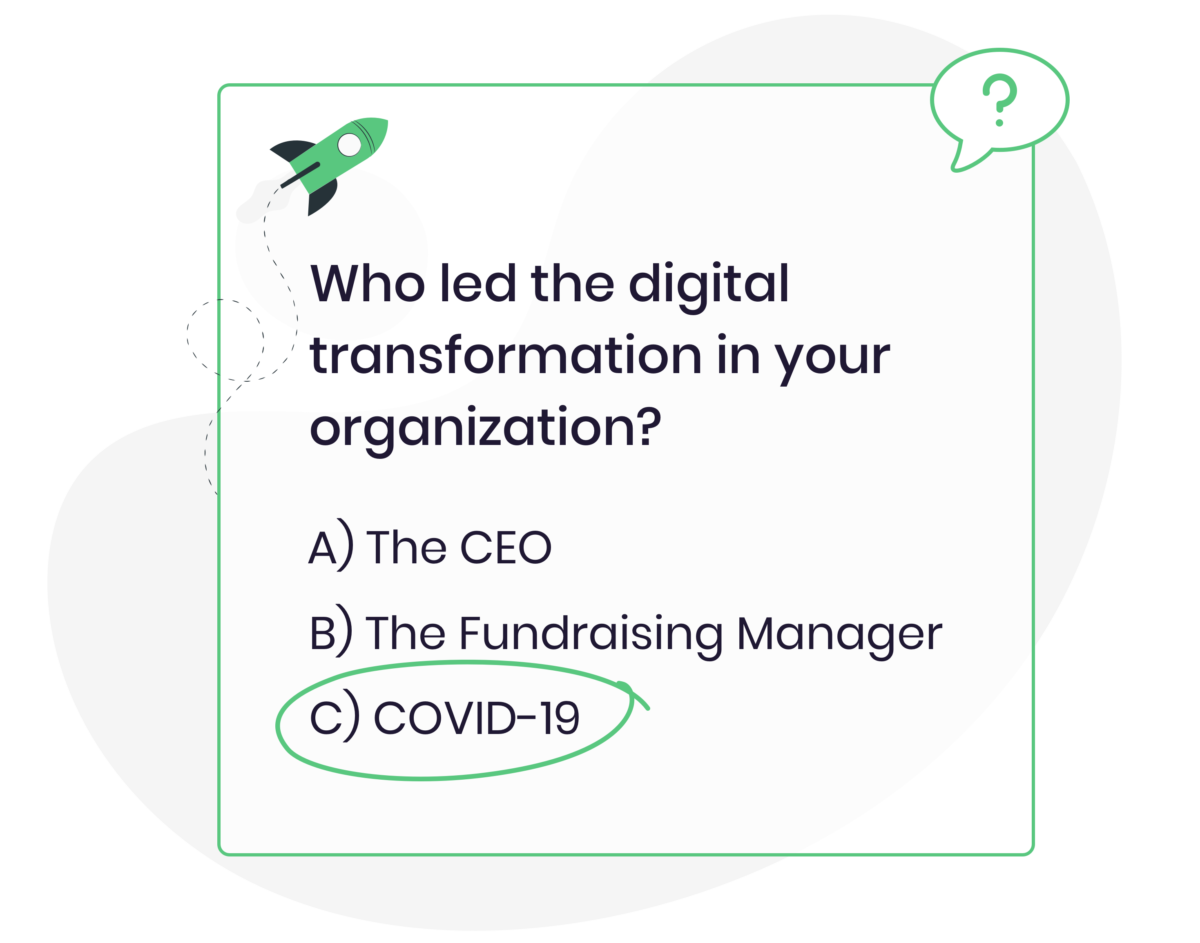 Have you seen the "joke" about who drives digital initiatives in your Nonprofit? Is it the CEO, CTO, Fundraising Manager or Covid-19?
The fact is that Covid-19 has and is driving a surge in digitization across the industry – which also means, that some of you will be making decisions about digital platforms, that you have never faced before.

It is okay to change by necessity. It is even better if you do it in a smart way, learning from conditions you may meet again!
The thing is, you need to make decisions about both short and long term changes – short term: to try to recover lost funds through cancelled activities; and long term: how do you mitigate the risk of again getting into a situation with a sudden drop of funds and lack of ability to raise more?

If this is your situation, and you're not actively doing something to get to a new level of digital execution, your organization may experience some super challenging times ahead.


About more than lack of funds
The situation is not only about short-term lack of funds to support your mission. It's important, yes, but the long-term consequence is much worse. Let's have a look at some of the resources and value drivers, that you had working for you:
How did you execute all these physical fundraising initiatives? With lots of volunteers, supporters and (typically) students working hard to convert street-meetings into one-offs and recurring donations. Volunteers working at festivals, events and other fundraisers.

What was the nature of the donations associated with all the moving parts you had going on pre-Corona? How large a part of donations was one-offs (ie. donor gives once)? What was the average value per donation for one-offs? In our experience, the least digitally advanced NFP's, have a disproportionate share of one-offs. And the ability to convert one-offs into recurring donors is the desired aim but challenging in practice – we'll come back to why.
In other words: A very large part of the resources available to you is now idle (although free, it is a resource that you are now NOT leveraging) and the nature of the donations you were collecting, was one-offs. They HAVE given, they ARE not giving. They are idle, at home. And you are lacking in recurring donations.
Wouldn't it be nice, that all these people were still actively working for you? And that a large part of the donations were recurring, instead of one-offs? That's what you need to be working on. Now.
The ready reaped the rewards.
During the peak of COVID-19 in Europe, iRaiser saw a surge in donations on digital platforms for most customers. In fact, more than €80 million was collected over a period of three months. Did your digital fundraising platform secure your cause its rightful share?


About resilience
So, we've seen that we can't assume that we can return to business-before-Corona anytime soon, if at all. And, even if you could, would it be wise? We don't think so.
Not only would you run the risk of ending up in the same situation, if a new crisis, hindering physical fundraising, were to appear in the horizon (Think Covid-2x types of scenario), but there's other strategic problems associated with the now obsolete practices, that you want to move away from.


One-offs vs. recurring donations
NFP's with a large amount of their donations coming from donors giving recurring (fx monthly) donations, retain a larger proportion of their funds raised in times of crisis, because even if the donors are less affluent, the drop in funds is not nearly as steep.
Tip: Make sure you have access to use the data from your one-off gifts so you can communicate through the whole "donor journey" and convert the initial sympathy reflected in the first gift to become a long term donor relationship.


Cost per donation
You want to raise as much funds possible for as little cost as you can. Therefore, the fundamental logic of increasing your "share of wallet" with your donors applies just as much to fundraising practices as it does to consumer marketing. The cost per transaction will be decreasing over time, as you build digital relationships with your donors.
Tip: Consider implementing features like a "last donation scroll bar"!


Leverage resource
All the fundraisers and volunteers sitting idle at home during the crisis, all have a mobile phone and one or more social accounts. And lots of friends. If you had their email addresses, consent and a fundraising platform they could use to support you… you would be peer-to-peer fundraising right now!

Tip: Consider white label peer to peer solutions; with live data available for you to maximise giving and user experience. Don't JUST focus on one transaction – you need to increase revenue and drive down acquisition cost, and losing out on leveraging the social networks of your donors is a less than optimal resource leverage strategy!


Average donation
Have you compared the size of your average donation per donation channel or payment method? Well, if not, get started. In general: ruthlessly remove barriers between your donor profiles to make it easy and practical to donate (do you use personas in your creative planning?). Conversion is your game, commit the currency and cash the outcome.

Tip: Organizations leveraging fundraising platforms that utilize "gift grids" (incentivizing larger donations by explaining the value a donation provides, sometimes by leveraging algorithms about donor behavior) and have flexible, widely covering payment methods like mobile/wallet and credit card, on average, receive higher donations.


Data, data, data
Above all, in these times, resilience is about the ability to keep executing insightfully and efficiently, even if your organization is dispersed, your volunteers are working from home and your donors are all over the planet. That ability is founded on availability of data. Data available for contact (consent, email-addresses and social logins), data for profiling and analysis, data for secure processing of payments with no delay.

Tip: Be very aware that some digital platforms offer to drive your fundraising – quite easily and cheap – but the catch is, that they own the data about your donors. How do you think that data is leveraged, when they target donors for the next cause? Right. Share of wallet is a competitive discipline for fundraisers too, and you should protect the relationship with your donors by owning your own data.


Selecting the right platform
One would think that all the above is associated with having a modern, digital fundraising platform. But be aware – some of the platforms you are offered, may perform well on some aspects and not so well on others.

Some of the social platforms, for example, work great for message distribution, but don't give you ownership of your data and delay your funds. You will also see applications offering to drive your fundraising that comes from a completely different market – like pure CRM – which will end up increasing your total fundraising cost as you strive to integrate and execute across your digital landscape.

Do you need help to choose the right fundraising platform? iRaiser can provide you with a fundraising checklist to help choose the right fundraising platform for your not-for-profit. Read our fundraising guide: finding the right donation platform for your charity.