Smartphones have changed the way donors give and communicate with their cause of choice today. And mobile giving has become crucial in a successful digital fundraising strategy.
Why? Your donors are constantly on the move. On a daily basis, they need to drop the kids at school, take transportation, meet work deadlines, cook, do the laundry, etc. There's hardly a second to breathe, much less time to write a check and put it in the mail for your nonprofit. These donors want to give to your organisation. They just need an easy, quick way to give on the go.
When we analyse global data from our fundraising platform over the last 60 days (sept – oct 2020), numbers are talking quite clearly. 58% of all visitors are now coming from a mobile device. At the same time, mobile charity donations only represent 32% as opposed to 65% on desktop (the gap represents tablets).
Our goal here is to help non for profit organisations reduce this difference. Let's find out how.
1 – Use Google Analytics to determine how many visitors are coming through mobile.
Each organisation is unique. What is true for your nonprofit may not be true for another one, depending on your size, history, audience, mission, sector, etc. Check your acquisition rates, behavioural metrics and conversion statistics to highlight strengths and weaknesses of the actual situation. It will help you to focus your strategy on concrete goals to reach.
2 – Adapt your content to mobile.
Most of us are at our (home) office, designing our next fundraising page with an online donation form on our desktop, checking if all communication elements are there and looking good. By doing this, we're creating a big gap between our experience and the one that donors will go through. Especially when they're on a mobile phone.
Multiple simple factors are often underestimated:
The size of the screen: As basic as it sounds, when we have 250 words to explain why donors should help your organisation, it means donors will have to scroll on their mobile before even seeing the donation grid. We all should reduce the size of our texts, avoid unnecessary banners, etc. We need to keep only what is absolutely necessary. Focus on efficiency.
The context where the donation takes place: When you're on the move, you don't have time to read a lot of elements. Once again, we should focus on essentials. But we can also think about other ways to display a message on the donation page. Take video for example. Making a 30-60 second video can allow you to communicate a longer message (with even more impact) and it is perfectly adapted for mobile online donation pages.
The quantity of information needed:

This point is also essential to your online fundraising efforts.

Fulfilling an extensive, personal information form is boring and time-consuming. Especially on mobile devices. Even if your phone will probably help you with it. So try to think about how far you really need to go and if, at the end, you will really use these elements.


We'd like to propose you two quick solutions here:

Build your donor profile later. Start by receiving a donation with only essential information. Yes, it is possible to receive donations and only ask for an email address. Then, build a specific onboarding process to collect data step by step. It will also be a perfect occasion to engage discussion and interaction.
Use our

"Find My Address" tool

and allow donors to enter their address in a single line (same as Google Maps). With this tool, you can have this information without 4 different fields. Cool right?

Let's discuss more about this feature.
3 – Adapt your promotional fundraising strategy
Your supporters regularly spend time interacting with friends and family, brands they like and causes they support on social media, making it a must-have marketing channel in your online fundraising strategy. The last Kantar study showed that 82% of the 60,000 people who participated in the study (internet users of 12 years old and up) stated that they're using social networks, and at least once a day for ⅘'s of these users.
They are already there, let's use these platforms to reach out and engage your supporters. Post compelling stories, moving images and powerful calls to action through Facebook, Instagram, Twitter, Snapchat and TikTok to gain new followers and donors. To effectively fundraise online and collect donations across social media platforms, make sure to use short links in your message that lead to your fundraising pages and donation forms. in your message, This will help maintain a to keep a high quality standard of data.
4 – Specific payment methods for mobile fundraising
Did you know that at iRaiser, we propose to display specific payment methods right after the selected amount to allow donations to be made in only two clicks?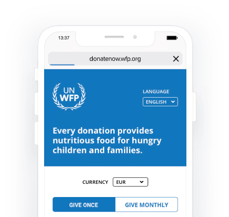 That means a lot when you're on a mobile device. In this example of the World Food Programme donation form, powered by iRaiser, the donor sees directly all important elements and is able to completepursue his donation in only one click!
Of course, if they want to change currency, type of donation or the amount, it will add clicks, but even with all these changes, the global donation process is efficient and without scrolling.
However, not all payment methods work this way. It is only functional when the payment method already knows the donoryou, when theyyou have a personal account. In this example, if theyyou have an iPhone, that means that Apple already knows theiryour email, name, address, etc. so it allows the charityus to simply ask for a payment and if the donor authorises it, then Apple will provide us with all the personal information your non for profit we asked for.
Mobile payment is highly related to your world region:
Depending on where you live and market specificities, different payment methods dedicated to mobile exist. Thankfully for our clients, we cover a large part of them. Here are some examples: Apple Pay, PayPal, MobilePay, Vipps, Swish, Satispay, Tikkie…
Get in touch if you want to know more about specific mobile payment methods!
It's safe to say that the mass embracing of mobile devices, and smartphones in particular, has changed the way we fundraise. But unlike some technologies that have come and gone in our lifetime, mobile technology is here to stay. Organisations can no longer ignore this key element and must optimise their mobile fundraising strategy in order to reach wider, and younger audiences.
In addition, don't hesitate to read iRaiser's article to discover how to build the perfect annual digital fundraising plan in 5 steps.